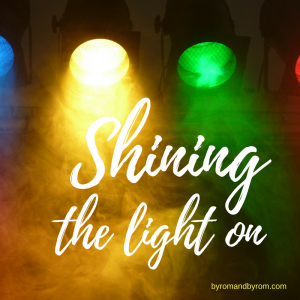 We are beginning a series of 'Shining the light on…' blog posts, a space for YOU to share your work or ideas, to tell others about your innovations in midwifery or maternity care.
Please let us know if you would like to be next! We're waiting….
TODAY THE LIGHT IS SHINING ON … LAURA GODFREY-ISAACS!
We are delighted to share Laura's work and interests with you, and information of an exciting event that will be well worth attending!
Laura is an artist, midwife and feminist academic and activist. She spent over twenty years in the arts, as a visual arts, feminist academic and creative producer. In 2016 she graduated as a midwife from King's College London, and now works at King's College Hospital, London.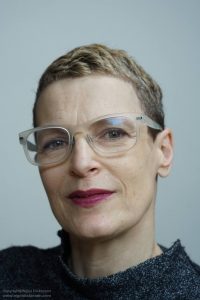 Laura aspires to bring her knowledge and experience in the arts together with midwifery, to bring fresh interdisciplinary perspectives to inform education, practice and research. She is currently Research Associate with The Digital Institute for Early Parenthood, Ambassador for Proceate Projects and co-lead of the Health policy committee at The Women's Equality Party.

'I'm really excited to tell you about this up and coming event. I'm delighted too, as I am involved as an artist/midwifery advisor and speaker. Oxytocin – Birthing the World takes place at The Royal College of Art, and is organised by  Procreate Project  in collaboration with The Museum of Motherhood USA This is an international research and community event designed to encourage conversations and exchange between medical, midwifery, academic and art sectors with the aim of facilitating collaborations between them and increasing awareness of women's rights, and their emotional, physical and cultural needs during pregnancy, labour and the postnatal period.
Before qualifying as a midwife in 2016, I spent over twenty years in the arts, as a visual artist, feminist academic and creative producer, and projects like this are enabling me to bring these different aspects of my life together. What excites me is the potential for the arts to inform and enrich midwifery – through an analysis of social constructs around women's bodies, femininity and birth, by creating images and projects which can illuminate and extend representations and understandings of birth and as a tool for midwives to explore their own creativity and reflection.
The panel Midwifery, Art & Culture will include a group of midwives who represent some of the ways in which these issue are being explored as they all have a different connection, through their practice, with art and culture, which will be articulated through presentations and discussion. It's great to be able to provide a platform to discuss a range of artistic and cultural strategies in midwifery with Ellie Durrant – Midwife Diaries & Secret Community of Midwives in the Making, Emily Maclean – midwife, journalist and social media editor, Nabila Fowles-Gutierrez – midwife, activist, mother of 3, female entrepreneur & musician and Claire Harbottle – Independent midwife, artist and director of Nativity Hub Leeds.
My introduction to the panel will build on recent conference presentations I have given at The Normal Labour & Birth Conference in Sydney 2016, MaMa Conference 2017, VIDM 2017 and the RCM Annual Conference, which look at depictions of 'Birth in the media' and representations of breasts and breastfeeding including brelfies (selflies of women breastfeeding). By looking at work about birth and breastfeeding, by artists and birth activists, in relation to depictions in the media and the wider culture it is possible to chart dominant cultural constructs which often limit and constrain women's understanding of birth, and offer wider, more complex representations that open up meaning and connection and encourage women's autonomy and agency in birth.
This event will be a fascinating interdisciplinary event, which I hope will encourage more cross-over between midwifery, art and culture and ultimately benefit those working to enhance and improve maternal experience: artists, midwives, birth workers and activists.
Details of Oxytocin – Birthing the World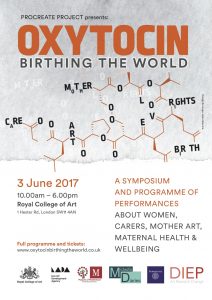 Saturday 3rd June, 9.30am – 5.30pm, Royal College of Art Battersea, 1 Hester Road, SW11 4AN
https://www.oxytocinbirthingtheworld.co.uk/    Tickets from £20
Find Laura on Twitter: @godrey_isaacs
Please let Laura know if you want any more information, and what you think of this fascinating and important work!
ALSO… if you want to receive snappy, topical information about midwifery and maternity care, sign up here to receive our Sunday Summaries right to your inbox. Boom.